High-Pressure Mission-
Critical Nitrogen™
Generators for the Military
NITROGEN SOLUTIONS THAT
ARE READY WHEN YOU ARE
Self-sustainable high-pressure nitrogen
generator solutions engineered with critical
military needs in mind.
SELF GENERATED
NITROGEN.
SIMPLE MAINTENANCE.
DURABLE DESIGN.
NO DELiVERIES.
South-Tek Systems has been supplying U.S. warfighters and soldiers with reliable nitrogen generators since 2006. We offer garrison, stationary systems and deployable expeditionary options. South-Tek Systems specializes in high-pressure and low-pressure Nitrogen solutions that keep up with the demands and standards of the U.S. military.
NITROGEN IS ALL WE DO, SO YOU CAN DO MORE.
YOUR MISSION-CRITICAL JOB, SIMPLIFIED WITH HIGH-PRESSURE NITROGEN GENERATORS
High-pressure nitrogen generators play an essential role in supporting modern military equipment. Maximizing readiness with on-premise nitrogen production ensures mission critical nitrogen when it matters most. South-Tek's high-pressure systems are designed to reliably support the following applications:
Fill high-pressure gas suspensions in JLTV, Stryker and other light-to-medium combat vehicles
Maintain pressure in
M-777 recoil systems
Pressurize fire suppression cylinders
Fill vehicle and aircraft tires and struts and flight line backpack cylinders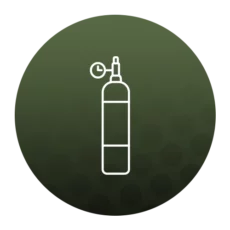 Provide backup ready-to-fill nitrogen supply via included cylinder
Any other high-pressure use
Your job can take you to the most remote parts of the world. Running out of nitrogen can mean a breakdown of infrastructure and equipment, and, depending on your supply chain, can leave you scrambling to find a nitrogen supplier.
By switching from nitrogen delivery to on-premise production, you eliminate dependency and minimize risk, empowering you to take control and champion readiness.
South-Tek Systems high-pressure nitrogen generators are built and tested to be as tough and dependable as the men and women using them. Check out our high-pressure line of systems that meet a wide range of military applications:
Greater Control at Lower Costs
ELIMINATE DOWNTIME; PLAN AND BUDGET WITH CONFIDENCE.
The United States Military demands the best. South-Tek high-pressure nitrogen generators provide:

Compact integrated design

No hazardous storage or connections

Low gas generating cost

Low operating cost

Easy installation

Full access doors for easy maintenance
Stand Ready With High-Pressure Nitrogen Generators Where and When You Need Them
Cost-Effective Nitrogen Gas Solutions for Remote Locations
Access to nitrogen can be an expensive, time-intensive process for military members across the globe. On-premise nitrogen generation provides greater control at lower costs. With South-Tek Systems' high-pressure nitrogen generators, nitrogen is readily available whenever it's needed.
If maintenance is needed, all South-Tek high-pressure nitrogen generators are designed to be easily serviced with doors for ease-of-access and intuitive controls. Since 2006, South-Tek Systems has delivered reliable nitrogen gas generators and provided superior customer service to the United States military, earning the reputation of the leading nitrogen expert.
What Our Customers Are Saying
Nitrogen Bottle Filling Skid
Stationary skids produce high quality, clean, dry nitrogen for filling bottles at your shop and eliminate reliance on outside gas suppliers. With the N2GEN HPCF-K0 series of N2 generators, a low pressure N2 tank, air powered booster and cylinder fill stand are conveniently incorporated onto a compact skid. Stationary models are designed for shop or shelter, and are easily integrated with containerized tool shops and kits.
Stationary systems require a separate source of clean, dry compressed air, and can be configured to deliver either 2200 or 3000 psig fill pressure. Models are available to fill 2, 4 or 6 N2 cylinders within 24 hours. Complete air compressor systems are available if needed, and can be packaged with the N2 skids for a turnkey system.
Deployable Nitrogen Generator
GENERATE MISSION-CRITICAL NITROGEN ON-DEMAND
Designed to provide high pressure, oil-free nitrogen on demand in all types of field conditions, on flight lines, and in mobile or fixed shops, the HPCD-01D Deployable Nitrogen Generator is a fully integrated system housed in a hard case for protection. The system is capable of filling a single cylinder to either 2200 or 3500 psig and includes a N2 generator, low pressure tank, twin oil-free air compressors, gas booster and high pressure fill lines.
Robust and Portable Solution for Military Applications
SOUTH-TEK SYSTEMS CHAMPIONS TWO TOP PRIORITIES IN SUPPLYING THE UNITED STATES MILITARY:
South-Tek Systems high-pressure N2Gen HPCD-01D and low-pressure N2Gen 4-HC were designed with these mission-critical priorities in mind. Deployable nitrogen generators provide on-premise generation – wherever your mission takes you.
High-Pressure Nitrogen On-Demand
DESIGNED FOR FIELD CONDITIONS AND FLIGHT-LINES
Robust, rock-solid design enables South-Tek Systems high-pressure nitrogen generators to generate excellence, every time. Our wide variety of nitrogen generator solutions enable U.S. armed service men and women to reliably deliver nitrogen where and when they need it, for the long haul.
FAQs for High-Pressure Nitrogen Generators for Military Application